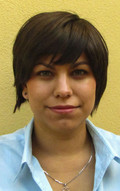 Szabina Bodnár iz Cultural Creative Industry Cluster
http://www.kikk.hu
Bilatateralni sastanci
Poslovni sastanci, Petak 13.09.2013. (13:00-14:00)

Creative? Industry? Cooperation? - We have the answers

On 31 January 2007 the Cultural Creative Industry Cluster (former name: South Transdanubian Cultural Industry Cluster) was established The cultural cluster is an institute of the Cultural Innovation Competence Centre, acting as an umbrella organisation for the creative industry of the region.

OUR MISSION:
- To enhance the profitability competencies of our cluster members.
- Our objectives in creating the Cluster
- To provide for the prerequisites of successful operations in the competitive market, to promote the cultural innovation network and the coordinated cooperation of actors in the innovation industry.
- To design and organise the regional marketing of a range of cultural products.
- To develop and incubate the industrial and operative regulations governing cultural background activities and cultural operations.
- To deal with requirements, plans and projects affecting the cultural sector in the RIS and Competitiveness (Development) "Pólus" Project, and to generate innovative developments.
- To establish a suitable training system, according to the direction of development in the culture industry, including the organisation of professional further education.
- To participate in the organisation and implementation of programmes and events related to the investments as part of the European Capital of Culture Programme.
- To create a uniform set of norms to improve the market operations of actors in the culture industry based on innovative methods.
- To communicate the achievements in the field of the culture industry with a variety of tools.
- To share experience with Croatian and Slovenian industry actors, to exchange methodology and results, and to assist their preparation.

ACTIVITIES OF THE CLUSTER
- Exploring R&D partnerships with universities in the cultural and creative industries (development and innovation strategy of the university).
- Assisting the incorporation and development of enterprises in the innovation and cultural industry, integrating them into the cluster.
- Supporting shared procurements and the organisation of cultural service provision.
- Organising joint sales.
- Managing joint development, production and service provision activities.
- Assisting the joint launching of products on the market (shared image and brand name).
- Preparation of PR and advertising material.
- Developing partnerships, organising partner meetings both within Hungary and internationally.
- Supporting administration and project accounts.
- Fund coordination and preparing tender applications.
Zemlja: Mađarska
Vrsta organizacije: Klaster
Veličina organizacije: 1-10
Godina osnivanja: 2007
Grad: Pécs 7626,Koller Str. 5/2 Google map